About Us

Whether it is leveling in agricultural or digging trenches or earthmoving in construction sector, every task should be executed with precision and on-time. These processes create a foundation to grow high-yield crops or develop a strong establishment; hence these must be finished without making any compromise with the quality standards.

For assisting farmers, surveyors and contractors to get the leveling, digging or earthmoving work done with unmatched efficacy within the scheduled time, Dez Novin Sanat has come forward with technically-advanced machines. We are a reliable manufacturer and supplier of Laser Land Leveller, Land Leveller, Precision Machine Control, Trencher, Scraper, Ejector Scraper, Land Leveler, Land Laser Leveler etc. Formed in the year 1998, we have become one of the ISO 9001:2008 certified companies of the market that provides the best possible solutions for creating advancement in the domain of machine controlling. We maintain huge stock of products at the storage facility. This is done to keep ourselves in a position to serve urgent requirements of clients.

Domain Expertise which is Second to None

With more than 3 decades of rich experience, the company provides best machines and tools that are required to complete projects with high accuracy and efficiently. We always believe to not just sell a product, but to develop trust among clients by maximizing their profits. From conception to completion of every undertaken project, we adhere to the regulatory norms for designing modern products and increasing the productivity of clients.

Our Competencies

We work with a simple mission to help clients grow their construction and agricultural businesses. Our company is dedicated to create state-of-the-art technologies and designs to make clients face every day production, environmental and other challenges with matchless strength. Our reputation in the market is the result of the following competencies:

Modern research labs to design novel agro and construction solutions that are focused on boosting the business of clients with high efficiency and strength.
Process automation and visualization to ensure to design high-tech products for better productivity.
Next generation products with customized features and designs for meeting precise demands of agriculture and construction.
From designer to engineer, every team member embraces disruptive technologies and challenges with confidence to provide significant results to clients.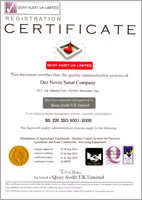 Read More